Sponsored post from Vaddio
From cameras to microphones and lighting, ways to make your videoconferencing better
I had a virtual doctor visit the other day with a new provider. Once she got online, the nightmare began. It felt like I was watching someone who got dropped into an 8-bit video game world. The camera was aimed up, cutting off her head right below the nose. The video quality was helpful in the sense I didn't have to look into those nostrils. The audio was equally bad, with every fifth word being mangled by the microphone or streaming quality.
Needless to say, it was such a bad experience I won't be going back to this particular provider anytime soon. You'd think physicians would want clear images, especially if they are in the business of diagnosing a visible medical issue. It makes sense to those of us in the AV industry, but even in this time of utter reliance on videoconferencing solutions to conduct day to day business, misconceptions abound.
Paul Cords, Director of Sales and Product Management at Vaddio, was more than happy to share some of the most common misconceptions he has to tackle every day. He rattled off his top seven like he was rehearsing a play called "Misadventures in Vaddio-Land."
Thinking all cameras are created equal.
The spectrum is wide, from built in laptop webcams to studio quality TV cameras. Choose what video camera is right for your application by considering output type, power extension, PTZ needs and zoom range (that's zoom as in get closer, not the meeting app… never mind, you get it).
"It stems from the 'good enough' conversation," Cords said. "What we've seen in real life is folks putting in something that errs on the side of underwhelming."
A small $200 static camera in a big room is quickly going to showcase its failings as a solution.
Thinking that videoconferencing is not live tv.
We've had smart phones and video apps for long enough to innately know the difference between good and poor video. We're voracious consumers of video and know what a perfectly framed shot looks like. Think about the image and brand you want to portray to your audience. If your local news anchor had their head at the bottom of the frame for the entire broadcast, you'd change the channel.
Avoid backlighting that gives you a witness protection vibe. Fortunately, Vaddio camera have a background lighting filter feature. Just saying. Ring lights are step in the right direction, but try to diffuse it to avoid the eye halo effect.
Thinking videoconferencing is all about video.
Laptop mics and speakers do not provide a professional experience. If there's no camera in the room, at least have good audio. Mics should be positioned as close to the presenter as possible. Speakers shouldn't be so loud that they overwhelm the echo cancellation of the system.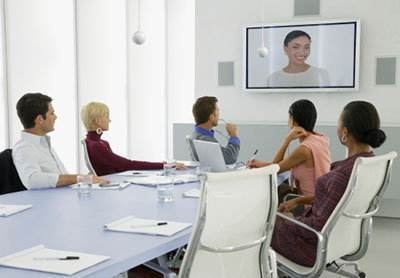 USB audio bundles are a great option for socially distant environments. You can stand 6-feet away and not have to share a laptop microphone. Ceiling mics or table mics have a 12-foot pickup.
AV over IP is too difficult.
This misconception is getting better as people realize the benefits of simpler design requiring fewer boxes. With AV over IP you aren't tethered to a certain location in the room. You don't need an electrician to drop power for a wall-mounted camera. It also doesn't need to connect to the corporate network – you can create isolated mini-networks in each room. There are a lot of networked audio solutions available to easily tie-in to your system.
The higher the camera resolution, the better.
Internet limitations mean 4K cameras for conferencing are usually overkill. Standard HD video may provide better performance when used with Teams, Zoom, and others. Consider the application and specify accordingly.
Everything should be wireless.
Though there's an industry-wide push for wireless solutions – for aesthetics and for less touchpoints to catch a virus from. But consider the tradeoff. Wireless mics may not be fully charged, or they can go bad in the middle of a presentation. A wired mic on the table is always charged and ready to go. Want less clutter? Ceiling microphone technology has improved tremendously over the past five years. They are always on, always powered, and allow you to move around the room freely.
That users don't have to practice.
Otherwise known as "I'm not a cat" or "You're upside down." This misconception has led to the top contender for the theme of 2020: "you're on mute."
"You can tell when people practice and when people don't," Cords said. "It's really important to practice with the tools you are going to use. Use the platform you will be using for the presentation. They all differ a bit and it helps to know."
Eventually we'll be heading back to the office. And it's going to be weird! We've spent a year now videoconferencing with each person with their own cameras. It might be uncomfortable when we go back and have wide room shots. Oddly enough, being in person just might feel less personal. Now's the time to start considering how to address this problem with your AV designs.
We got you covered with our diagrams page. Or you can check in with our solutions engineering team.
About The Author